WHEN: Oct. 28th 2019 5.30-9.00pm
WHERE: Circolo dei Lettori, Palazzo Granieri della Roccia, Via Bogino 9 (Turin) || Wild Mazzini, Via Giuseppe Mazzini, 33 (Turin, Italy)
WHAT: the round table, the opening, the first data-driven ritual of the Datapoiesis project during the Contemporary Art Week of Turin
---
FREE Event with registration
---
How is it possible for people to acquire new sensibilities and opportunities to better understendig and and sharing the complex issues of our globalized world? How can contemporary human beings and societies become more sensitive to climate change, migrations, energy, economy, health, poverty to imagine new forms of solidarity and inclusion?
From October 28th, OBIETTIVO, the first datapoietic work of art, arrives in Turin for the Contemporary Art Week, showing a possible solution. To answer these questions we need new combinations of art, science and technology such as those of Datapoiesi: the phenomenon in which data brings into existence something that was not there before.
"Everything we do and produce nowadays generates data. Data is no longer technical or technological artifacts but a cultural and existential one, and should be treated as such. As artists we have created a research center that uses art, design and communication to bring data and science into society. OBIETTIVO is a lamp animated by data that will stay on until extreme poverty in the world will not fall below a certain threshold. It is a totemic object around which to gather and "feel" poverty as it emerges from the planet. This is the meaning of Datapoiesis. We have invented a neologism to highlight the new existential border of human beings drawn by data and AIs, to able to see it, make it express about it and reposition ourselves in the world, as individuals and society ".


Salvatore Iaconesi and Oriana Persico, authors of OBIETTIVO and art*science directors of Datapoiesis.
Acquired in July by the Ministry of Foreign Affairs for the 20 years of the Farnesina Collection, only two months after its launch at art + b = love (?) Festival, OBIETTIVO in Turin is an exhibition, a round table and a new urban ritual designed to make us more sensitive to poverty.
"Datapoiesis is one of the best examples of how a project today must be conceived in a transversal way, beyond any art/science dualism. Datapoiesis is the spark that can triggers a new way of investigating and perceiving a reality in profound transformation – due to data and artificial intelligence. It is precisely the entrance of this discipline into our daily lives that obliges us to respond to new questions and, therefore, to lead us towards the creation of workplaces in which humanists, scientists, artists, politicians and entrepreneurs can imagine possible futures, each with their own skills. This is what we are trying to create in Italy with our festival art + b = love (?) inspired by the Renaissance. Our country, with its eclectic talents, has always been a privileged ecosystem, and it is still our best test bed in the global competition"

Federico Bomba, director of Sineglossa and co-director of art+b=love(?) Festival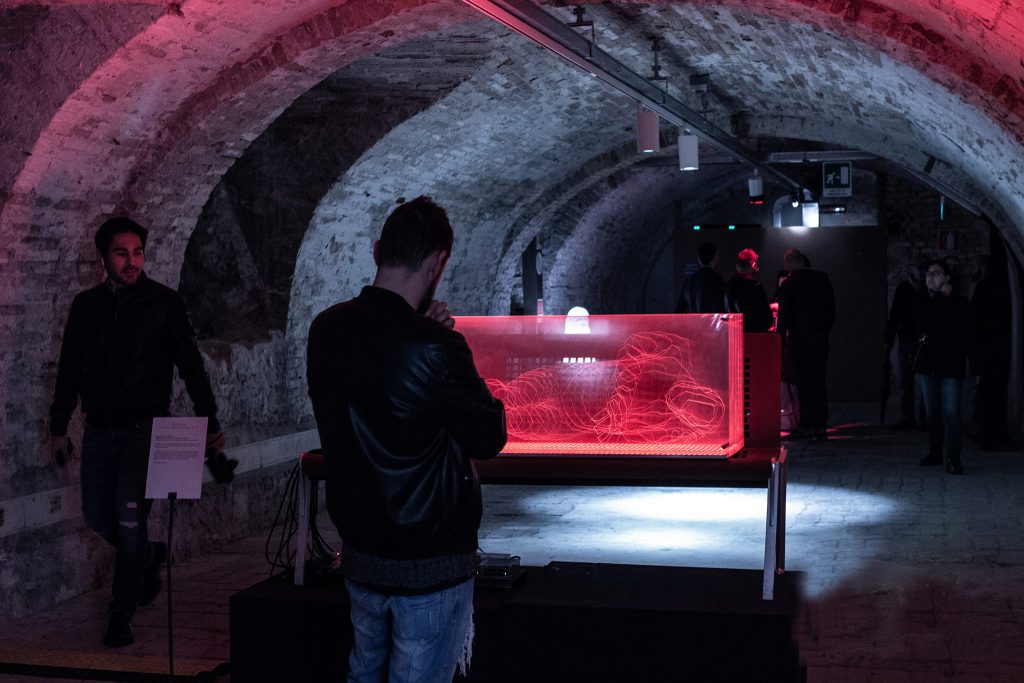 To question the concept of Datapoiesis and the development of global sensibilities, on Monday 28 October at 17.30 at Circolo dei Lettori, will be Catterina Seia, Alessandro Bollo, Leonardo Camiciotti, Tiziana Ciampolini, Simone Arcagni, Davide Fuschi and the artistic duo Iaconesi/Persico.
"Data are the words with which reality is told in digital languages, with an ever richer alphabet and an infinite number of dialects. Datapoiesis is the new oasis where science, technology and art can meet, talk and intertwine to mix these artifacts in new forms of description, understanding and awareness. Network infrastructures, thus, become the vehicle of a new collective participation to address complex local and global challenges. In other words, Datapoiesis will be the mirror of our transformation and, I hope, of our evolution."

Leonardo Camiciotti, executive director of Top-ix
The opening of the exhibition marks the first datapoietic ritual, inaugurating a new form of data-driven sociality: at 7.00pm speakers and the public will be invited to move from Top-ix towards the Wild Mazzini gallery to watch OBIETTIVO lighting for the first time in town.
"The artwork is conceived as a visual experience, allowing the public to sense poverty through the light impulses it emanates. For his Turin baptism, the lamp will temporarily give us an additional sense: the hearing. From 7.00 pm to 8.00 pm, OBIETTIVO will "play" poverty in the world, transforming for us the data of the global sources to which it is connected in a generative music in real time, around which to gather."

Arianna Forte, art curator of the project
"OBIETTIVO represents for us the continuation of a path about the transfiguration of data processed in real time, started with #HashedTime by David Bihanic: in that case they were Twitter feeds, now it is data on poverty. These artworks, contemporary both for those who observe them and for the story they tell, involve us visually. But above all they recall our individual responsibility because what they generate is happening exactly at that moment. "

Davide Fuschi art curator of Wild Mazzini
For the whole contemporary art week, the musical ritual will repeat at the same time at Wild Mazzini until Sunday 3 November, celebrating the social role of art and its capability to meet with technology, science and data to generate meaning, and to unite us in new forms of global solidarity.
"After Turin, OBIETTIVO returns to Ivrea in the Fabbriche ex Olivetti, where a permanent exhibition will be set up: at the end of November, the Fall School of the project will bring in town up to 25 young students, professionals, researchers to imagine the organizational and business model of the first startup dedicated to the phenomenon of Datapoiesis and its first line of design objects. In full coherence with the Olivetti legacy and with the regeneration process of the historical plants, once again art will inspire business and production strategies."

Elena Zambolin, ICONA srl
OBIETTIVO Torino is part of the Torino + Piemonte ContemporaryArt Program
The exhibit "OBIETTIVO Torino. Understending Datapoiesis" will be open to the public from 4.00pm to 8.00, from Tuesday 29th October to Sunday 3rd November 2019, at Wild Mazzini gallery. From 7.00 pm to 8.00 pm, for the duration of the exhibition, it will be possible to participate to the ritual sonorization of poverty in the world.
Info&Contacts
PROGRAM – Oct 28th 2019
>> 5.30 pm – 7.00 pm || Circolo dei Lettori, Palazzo Granieri della Roccia, Via Bogino 9 (Turin): Round Table "Datapoiesis. Global Sense-abilities, data-driven urban ritual and poverty"
Speakers (alphabetical order): Simone Arcagni (associate professor at University of Palermo; journalist); Alessandro Bollo (dir. Polo del '900); Leonardo Camiciotti (Top-ix); Tiziana Ciampolini (dir. S-nodi, Agenzia di sviluppo torinese per l'innovazione contro la povertà), Davide Fuschi (art director Wild Mazzini); Salvatore Iaconesi and Oriana Persico (AOS/HER); Catterina Seia (vice president Fondazione Fitzcarraldo)
>> 7.00pm – 9.00pm || Wild Mazzini, Via Giuseppe Mazzini, 33 (Turin): Opening, lighting, ritual sonorization of OBIETTIVO
Credits: "OBIETTIVO Torino. Understanding Datapoiesis" is a dissemination event of the Datapoiesis project in collaboration with Topix and Wild Mazzini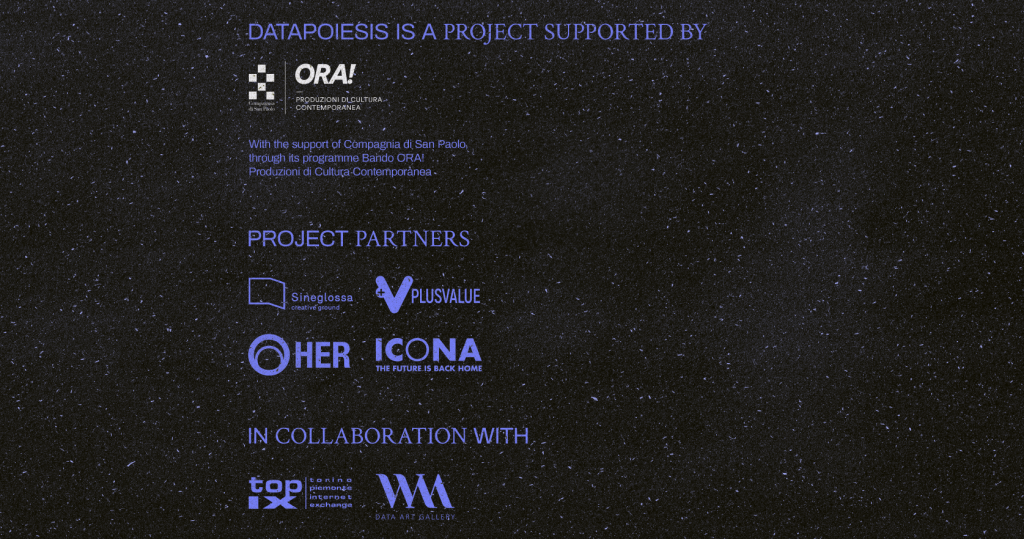 >> NEXT APPOINTMENTS: THE FALL SCHOOL
The next appointment with Datapoiesis is in Ivrea at the Fabbriche ex Olivetti, regenerated thanks to the ICONA srl, a group formed by 18 Ivrea-born entrepreneurs.
From 25th to 30th November 2019 these extraordinary location will host Datapoiesis FALL SCHOOL: an innovative education, training, planning and production program that aims to collaboratively design the first datapoietic start-up and its first design line.
>> APPLY HERE!