RED – FRANCESCA FINI /// SOLO SHOW at HER headquarters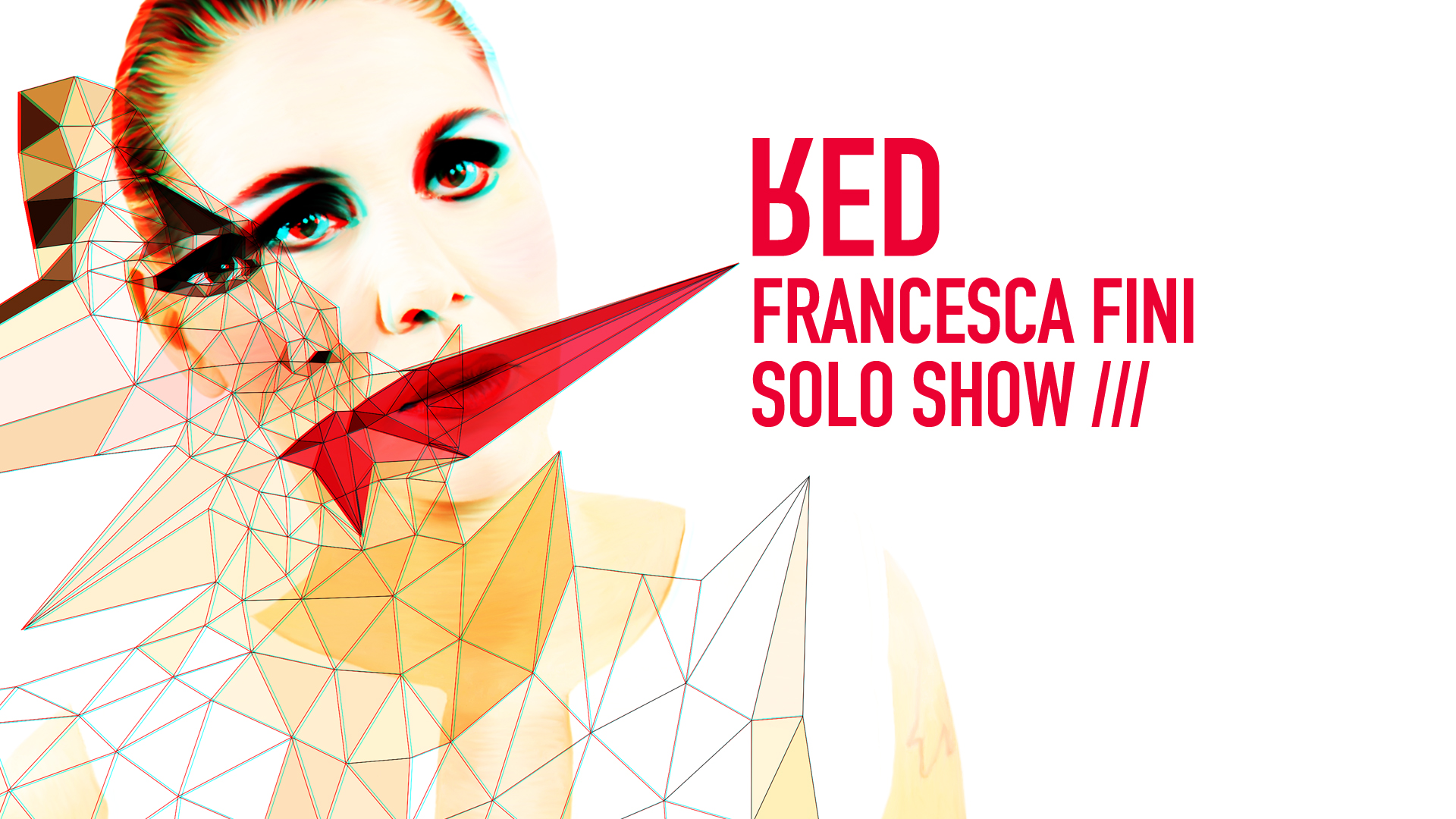 RED – FRANCESCA FINI /// SOLO SHOW
Exhibit 18 February – 18 March 2018
Vernissage & tea party 18 February 17.00, via dei Rutoli 2 (S. Lorenzo)
On Sunday February the 18th , HER – Human Ecosystems launches its first cultural season through  Red, a solo exhibition of the roman artist and performer Francesca Fini.
Selected videos combining performance art with  2d and  3d animation are curated by Arianna Forte and will be showcased in a very peculiar setting, the ancient Roman cistern of "Acqua Marcia".
Furthermore, the last artist's movie , the acclaimed Ophelia did not drown, will be shown and introduced by the anthropologist Massimo Canevacci.
The vernissage appointment is scheduled for 5:00 pm  in  via dei Rutoli 2 . Warm cups of tea, with an optional addition of alcohol,  will not fail to welcome the audience, together with a surrealist pasty performance.
Red color will be the subject of the exhibition. It is the color that  alludes by intuition to blood, the recurring element of some of the Francesca performances, such as a rouge smudged lipstick. Here, Red becomes synonym of a conscious, viscerally suffered  and claimed femininity .
"The ReD solo show  brings a closer partnership between  Salvatore, Oriana and Francesca.  They met on occasion of La cura project, for which Francesca has proposed Healing (2013) , a performance about magnetism power ; they joined their creative energies together for the multimedia performance  Bodyquake (2017) in order to cope with epilepsy topic, and now they pay homage at this relation through ReD."- the curator claims -"Red will be the opportunity to celebrate an artist with professional esteem as well as affection and to invite the local audience to have a cup of tea in the HER headquarter/house, offering hospitality and the occasion to get in touch with international level artworks."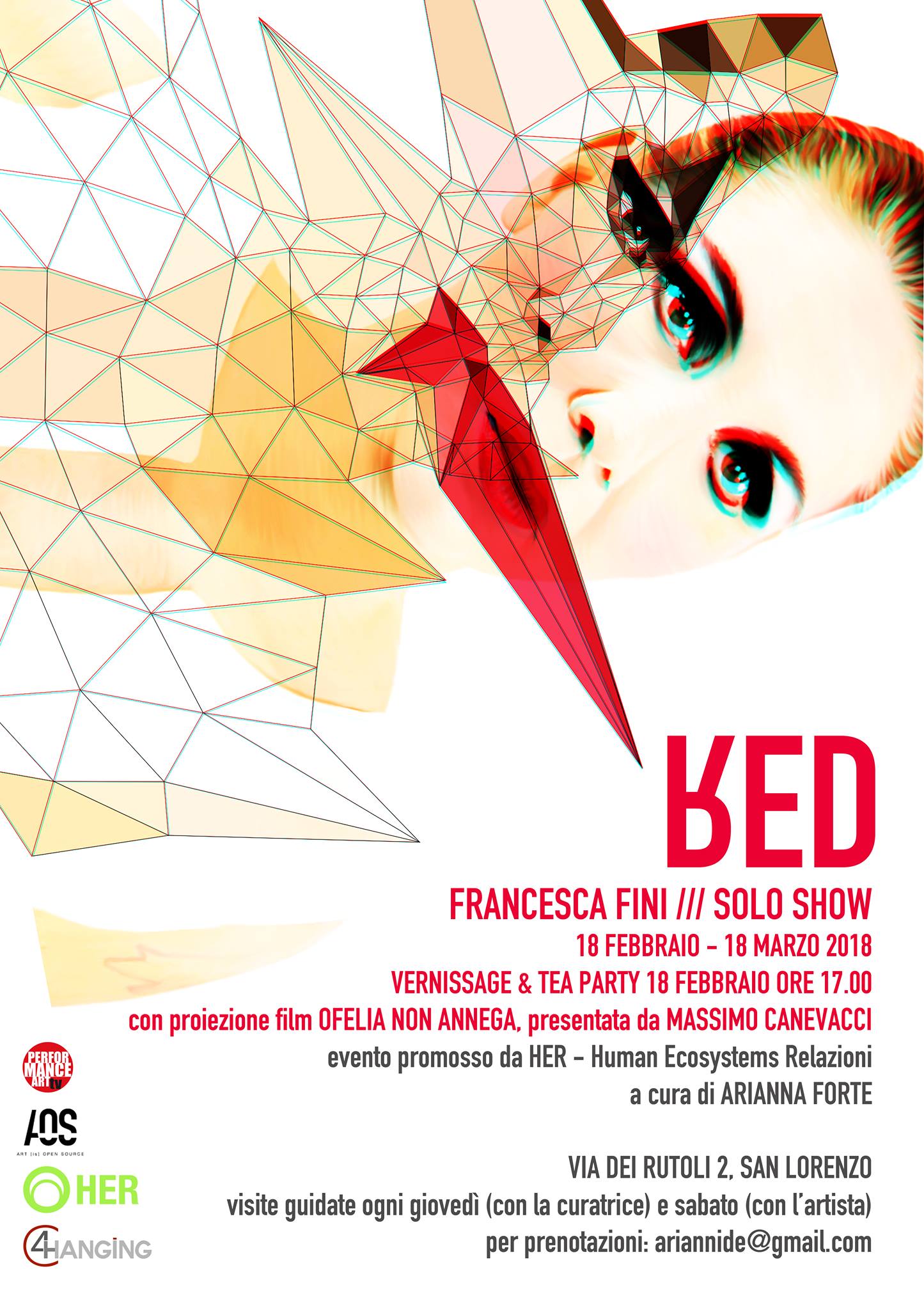 In addition the preview of the new experimental project of Francesca, HIPPOPOETESS will be released.
 On this topic Fracesca said: "ReD is a retrospective of my work on video, animation and performance art that, passing through one of the most complex works I've ever done, the film Ofelia did not drown, arrives at my last HIPPOPOETESS project, a 45-minute experimental animation film in which I "evoke" the spirit of an American poetess from the early 20th century. Let's say that what unites everything is the red thread of memory and my constant confrontation with the past: the personal, the national and that of western culture, to find the phantasmagoric clue along the way.
In conclusion of the evening Salvatore Iaconesi and Oriana Persico will announce some thrilling news about future HER projects.
Program
17:00 Opening ReD
17:30 Projection of the movie "Ofelia did not drown", (2016) by Francesca Fini. Following intervention by Massimo Canevacci
19:00 Surrealist pasty performance perfomance & tea party
---
Artworks
 Hippopoetess (medium-length movie 3D, 2018) – preview trailer & digital prints
Dadaloop (videoart 3D, 2015) 
White Sugar (videoart 3D, 2013)
Liszt (videoart, 2012) 
A Love Letter (videoart, 2013)
Fair&Lost (videoperformance, 2012)
Wombs (videoperformance, 2012) with Eithel Di Tondo