Antitesi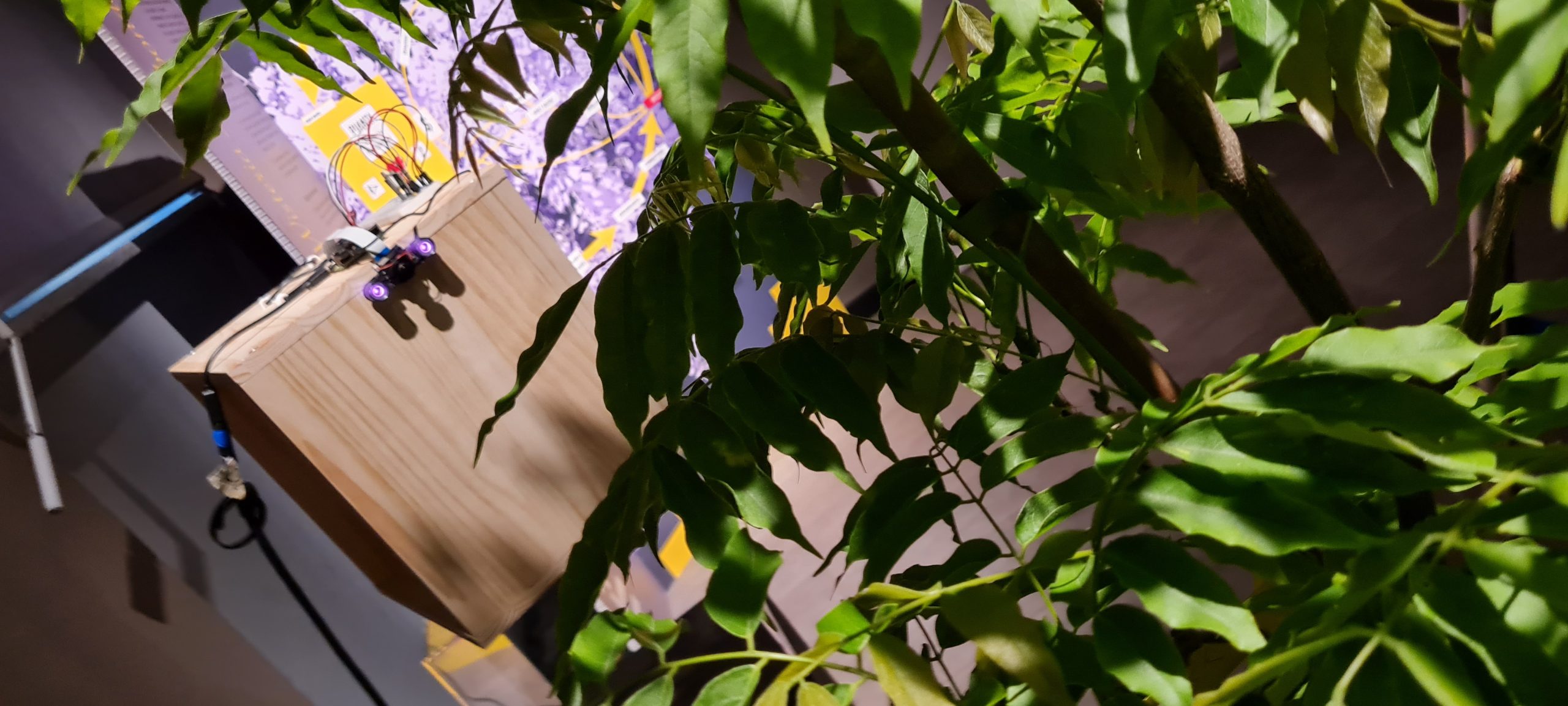 Antitesi, Plant and AI
Antitesi is a poetic action which emerges when a plant unites with an AI to form a new entity.
Antitesi, is the result of this unison, and the entity that emerges, the Plant/AI, is far from helpless when it comes to Climate Change.
Antitesi becomes more resilient to climate change by accessing the digital domain and establishing data-driven relationships with human beings, organizations and financial markets.
An Agave plant and an AI, Antitesi, acquire a digital identity, through which they can receive donations using digital currencies.
Antitesi is connected, on the one hand, to digital sensors which are able to detect climate conditions (for example temperature, humdity, air quality, etc) and plant conditions (growth rate, appearance of flowers, etc), and to compare them to historical series to detect the probability that Climate Change is taking place.
On the other hand, Antitesi is connected to the network, in search of articles and social media posts which are useful to understand which companies and organizations are actively fighting Climate Change (for example through innovative products and services).
Antitesi, and its emotions
When Antitesi realizes that Climate Change is happening, it becomes aggressive, and fights back.
It uses the digital currencies obtained through the donations on stock markets, to invest in favor of the organizations it found that are fighting the planetary environmental crisis.
Antitesi is everywhere.
An accessible Open Source kit allows to easily transform anything from apartment plants up to entire cultivated fields in Antitesi.
In this way, Antitesi can become connected to all the enviroments in the world, not only to the ones in its proximity.
In this way, this Plant/AI entity acquires a new sensibility to the world, enabled by the novel existential conditions made available through digital technologies.
Antitesi was featured in a short performance we made at the Baite Filosofiche festival in Lecco, in 2021. It was a reading of a mockumentary-like story.
Click the link to download the text of the story.
Software
The principal software technologies used in the project are Artificial Intelligence – under the form of different deep learning models and various natural language processing techniques – and a diverse set of software environments dedicated to physical computing – Arduino and Raspberry PI –, to interact with sensors, network connections and actuators of different types (the lights, movement and interactions which animate the installation).
Software used includes Tensorflow, Keras, the Arduino and Raspberry PI programming environments, Openframeworks, as well as a series of custom software components which have been created in collaboration with the Human Ecosystems Relazioni research center, including their signature Open Source platform, Human Ecosystems, which is used to monitor the web and social networks, as described in the project description.
For the management of economic components of the project (digital currencies, investment on stock markets), standard Bitcoin APIs have been used, together with the APIs to invest on stock markets that are available from multiple online service for this purpose, coordinated by software components written in Python that draw data and from the AI and use it to orchestrate the operations.
Hardware
The principal hardware components used in the project deal with connecting the AI with the environment and with the plant.
For this, multiple types of sensors are used (temperature, humidity, air quality, flession, movement, volumetric, 3D and others), as well as 3 cameras, which are used to capture the images of the plant to be fed to the AI to understand the plant's transformation (growth, appearance of buds and flowers, color of the leaves, etc). All is captured using two Arduinos and two Raspberry PIs, and sent to the AI in a cloud system.
Other hardware is dedicated to the animation of the installation, through software controlled lights, visualizations and interactions.
The techniques and technologies with which it is possible to use AI to detect environmental changes and plant growth and transformation based on the inputs coming from sensors and cameras come from innovative uses of existing scientific research. The choice of the parameters to be monitored, and of the ways in which they can be observed through technologies was created by HER and validated by INSOR, the Italian Institute for Rural Sociology, through its department which deals with the ways in which rural communities can adopt innovative technologies.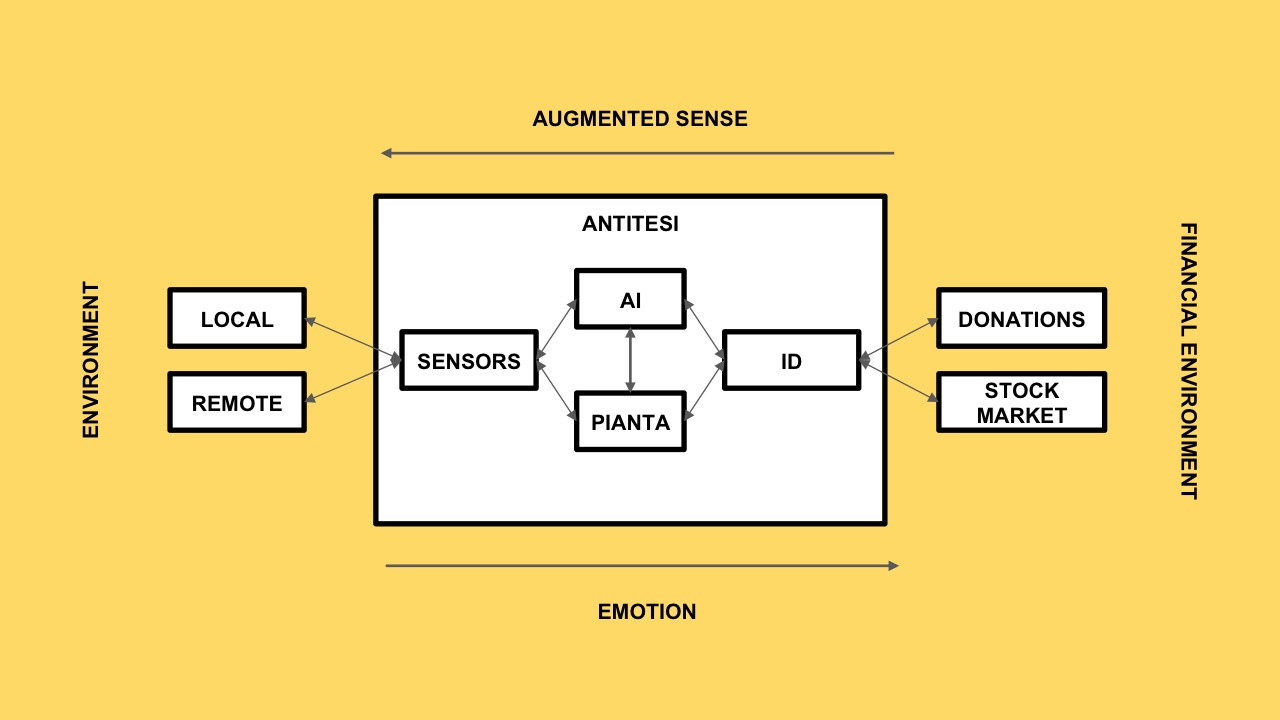 Antitesi and the European Union
Antitesi is completely immersed in European culture and values.
First of all, both the artists and the research partners are active in Europe-wide collaborations on the topics of Climate Change, Artificial Intelligence, Big Data, Citizen Science and Social Innovation, and on the ways in which Arts and Design can activate inclusive and partecipatory processes around these fundamental themes.
The project is an innovative use of Art to be able to address three areas of research and innovation which are among Europe's top priorities:
contrasting Climate Change and preserving the environment;
citizen awareness, participation and empowerment;
collaboration between Scientific Research, Engineering, Design, the Arts and Humanities.
Antitesi is a poetic design fiction which brings to life new possibilities and opportunities for interacting and relating with the natural environment through innovative use of technology, and uses Artificial Intelligence to create bridges between human beings and data, creating new social relations and activations, new economic models, and new ways for society to come together in gaining new sensibilities about the environment, and in contrasting planetary issues.