Human Architecture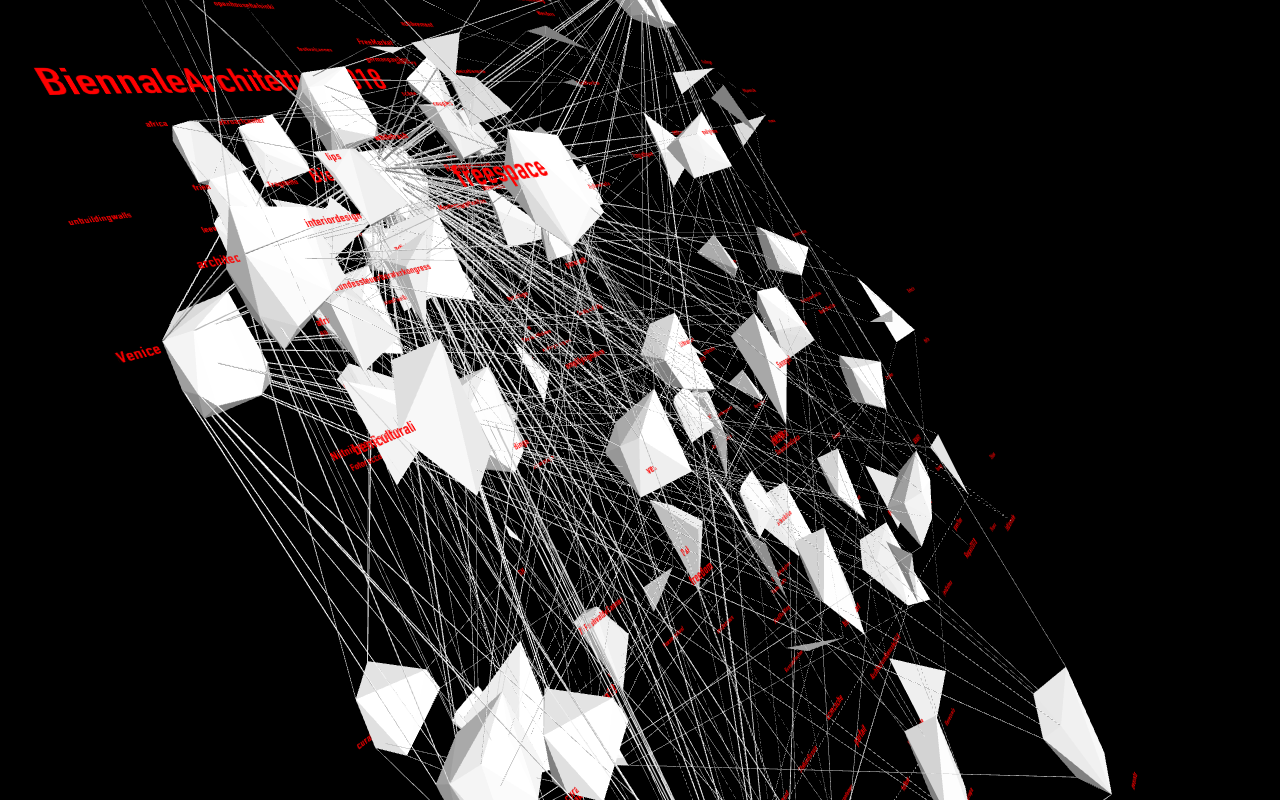 Human Architecture observes the relationship between the Biennale and the City of Venice.
The Human Architecture artwork collects large quantities of data from social networks and circulates them across society, throgh art, design and education.
A large scale visualization in the Venice Pavilion of the 2018 Architecture Biennale in Venice shows different perspectives on the data, in real time, and opens up the door for a investigation across communication, society, science and technology.
Data are part of our existence: we generate them with each of our actions, and they contribute to shape our reality.
But the largest part of this data is not accessible, and the city's inhabitants cannot use them to better understand their world, to coordinate themselves, and to take decisions together.
How can we, through art and dsign, use data to observe and comprehend the relationships between a large, global event such as the Venice Biennale and the City of Venice, with all of its inhabitants, both permanent and temporary? Human Architecture explores this question.
a Big Data collection on social networks and the web, about how people express about the city and the Biennale, while they are in the city; the data is anonymous and interpreted in aggregated form to protect people's rights and privacy;
the resulting data becomes a set of Open Data about the relationship between the city of Venice and the Biennale;
a large scale information visualization in the Venice Pavilion of the Architecture Biennale in Venice, in which people can see the topics which are being discussed, the relationships between different cultures, communities, languages, and other perspectives; Human Architecture is a real-time museum of the city;
a public event, in October 2018, called "Human Architecture: Data to the People" where institutions, cultural foundations and researchers will explore how data can enable city dynamics
an open workshop, in October 2018, where students, artists, researchers and others will join in to understand how to use this data for art, citizenship, research, public action and social imagination
a publication, in November 2018, in which we will collect all of the results, and unite them with actual considerations and insights produced through the data, to promote better, more lively and productive scenarios for the city and its large events;
we hope that this process will become cyclic, to promote continued participatory interventions for a better city life.
Press and Articles
Here are some articles dealing with this project:
The Event and Workshop in Venice, in October 2018